Don Sahong Project affects small number of households, developers say
---
2016-02-18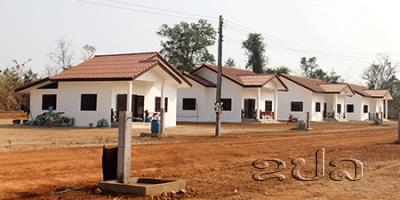 By Singkham
(KPL) Developers have said that the development of the 260-MW Don Sahong Hydropower Project has affected only 14 households which are located near the construction site of the project in the Khon Falls area.
They have been resettled to a new location, which is roughly one kilometre from their previous communities.
These 14 households comprise of 85 people, including 50 females. They have been removed from the villages of Don Sahong, Hua Sadam and Hang Sadam in Khong district to pave the way for the development of the hydropower project.
The newly resettled village was handed over to local beneficiaries on 15 Feb in the presence of Champassak Governor Bounthong Divixay, Deputy Minister of Energy and Mines Viraphonh Viravong, local authorities, and project developers.
"This is the first mega development project in Laos to have affected such a small number of households," said Mr Viraphonh.
To ensure better living conditions in the future, the project developer has built new concrete houses for each affected household and assigned each of them a 20x40m plot of land, along with a water supply and electricity.
These people used to live in houses that were not connected to a water supply or electric system and they lived without access to clean water facilities. They previously used water from the Mekong River for bathing and other daily domestic purposes.
Dr Bounthong called on the local residents to use the properties given by the project in an efficient and beneficial manner.
"We will continue to talk with the project developer regarding provisions of new lands for farming purposes to local people," said Chief of Kong District, Mr Sanan Siphaphommachanh.
"We are going to work with the project developers to build basic infrastructure such as roads, schools and hospitals in the newly resettled village and in nearby communities," noted Mr Sanan.
Training on commercial production is also planned for the affected families to ensure that they have a sustainable generation of income.
"We will train them on how to farm fish in the Mekong River and raise animal as well as how to access marketplaces for their agricultural products," said Mr Sanan adding that local people used to do farm rice and catch fish in the Mekong River as their main occupations.
Each resettled household has been built a new one-storey concrete house. The houses come in four different sizes: 7x8m, 8x10 m, 8x13 m, and 12x13 m. The size of the house is determined by the number of people in the family.
KPL